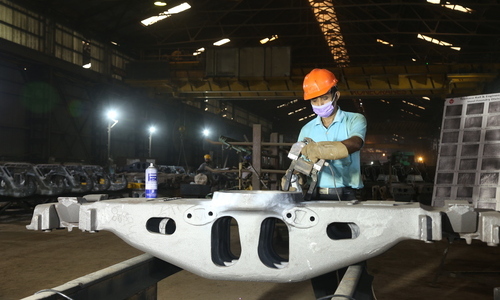 Texmaco Rail & Engineering Ltd. (TEXMACO) is an ISO: 9001-2015, premier multi-discipline, multi-unit Engineering and Infrastructure Company, with 6 manufacturing units extending over 6.78 million sqft.
The Company is involved in the business of manufacturing of Rolling Stock, such as Wagons, Coaches, EMUs, Loco shells & parts, etc., Hydro Mechanical Equipments, Steel Castings, Rail EPC, Bridges and other steel structures. Over the years, the Company has entered into technical collaborations with renowned Multinationals of Japan, U.S.A, U.K, Germany, Australia, Austria, Holland, etc. for developing and expanding its product portfolio.
TEXMACO has been the leading and most reliable freight car manufacturer over the past 8 (eight) decades. Its Freight Cars serve a host of core industries like Cement, Steel, Defence, Fertilizer, Oil, Alumina, Thermal Power Projects, Chemical Plants, etc. These include Custom-built Special Purpose Freight Cars for movement of large oversize consignments. Besides domestic market, TEXMACO has made significant thrust in overseas markets. Several Awards bear testimony to its successful achievements in National and International Projects financed by World Bank, ADB and other Multi-lateral Funding Agencies. TEXMACO also has a rich experience in having various technological tie-ups with renowned companies around the world. The Company's Steel Foundry, which is the largest in the country, is having the capacity of upto 42000 Tonnes of quality Castings per year. It has a State-of-the-Art facility set up by the world renowned MNC M/s.Kunkel Wagner, Germany.  The Foundry has earned the distinction of Quality Assurance Certificate (M-1003) from AAR (Association of American Railroads), making it the only Foundry in India qualified to export railway castings to the North American Market.  It has also been crowned with the "IIF Foundry of the year 2009" by The Institute of Indian Foundrymen. Recently, the Foundry at Kolkata has been recognized as 'STAR PERFORMER by EEPC' for consistent development & Global Accolades.
TEXMACO has diversified over a period of time into the production of Locomotive Shell and other Components for Electric Locomotives, outsourced by the Indian Railways.
TEXMACO is an eminent name in the field of design, fabrication, supply, erection, and commissioning of Hydro-mechanical Equipment for mega Hydro-power projects.  It is also well-known for fabrication of Heavy Steel Structures for Thermal Power Stations, Flyovers, Railway Bridges, Cranes and Equipment for steel plants, naval Ship Structures for Indian Navy etc.
TEXMACO has acquired Kalindee Rail Nirman (Engineers) Ltd. (Kalindee), a company which is renowned for carrying out EPC contracts for Railways and Metros. It specializes in track work, railway signaling, telecom and metro track work. TEXMACO is thus poised to be the end-to-end solution provider for Railways and Metros.
In the year 2017, Kalindee merged into the Company, strengthening TEXMACO's presence in the Rail EPC business.
Further, the Company has acquired Bright Power Projects (India) Private Ltd. (Bright Power) in the year 2016 as its subsidiary.  Bright Power is an EPC company incorporated on 10th January, 1994, specialising in overhead electrification (OHE) solutions for the Railways.
Texmaco Hi-tech Private Ltd. (Erstwhile JV between Texmaco and UGL Rail Services Ltd., Australia) (Hi-tech) subsidiary of TEXMACO, with State-of-the-Art manufacturing facility, was set up primarily to cater to the huge requirement of locomotive, wagon and coach components. It has developed its own customer base successfully with some global companies like GE Transportation, Alstom, Harsco, ZF, etc. It has also been successful in getting trial orders from Indian Railways for Coach Bogie Frames.
In the year 2019, Bright Power and Hi-tech were merged into TEXMACO and positioned the Company as a Total Rail Solution Provider to leverage on growth opportunities in Railways Infrastructure in coming years.
The Company is presently having following subsidiaries, which were formed / incorporated to supplement the Parent Company's business streams through forward & backward integration:
Texmaco Rail Electrification Ltd.
Belur Engineering Private Ltd.
Texmaco Transtrak Private Ltd.
Texmaco Rail Systems Private Ltd.
Texmaco Engineering Udyog Private Ltd.
TEXMACO has entered into following Joint Ventures with world renowned multi-national Groups:
Touax Texmaco Railcar Leasing Private Ltd. is a 50:50 joint venture between TEXMACO and the French Group Touax Rail, a leading Lease Finance Company of Europe, having vast experience in the business of leasing out freight cars etc. Touax Rail Ltd., formed in 1853, is a lessor of intermodal freight railcars in Europe and United States. The joint venture is for entering into the business of wagon leasing, pursuant to Wagon Leasing by Railways under its Wagon Leasing Scheme. The JV company has advantages of the present policy of the Railways of permitting Leasing Companies to own and lease wagons to the Industry and other end users on operating lease basis, which was not permitted hitherto. The JV company is exploring all business opportunities and has identified certain specific business schemes / segments under  (i). Container Train Operators (CTOs), (ii). Liberalized Wagon Investment Scheme (LWIS), (iii) Automobile Freight Train Operators (AFTO) for movement of automobiles, and (iv) Special Freight Train Operators (SFTO).
Wabtec Texmaco Rail Private Ltd., a JV formed with the world renowned Wabtec Corporation, USA on a 60:40 basis in the year 2015.
Wabtec Corporation is an American company formed by the merger of the Westinghouse Air Brake Company and Motive Power Industries Corporation.
Wabtec Corporation's origins go back to 1869 with the foundation of the Westinghouse Brake Company. It is headquartered in the Pittsburgh suburb of Wilmerding, Pennsylvania.
The JV company brings to the Indian market products like Draft Gear, Bogie- mounted Brake System and Friction Products, for which there is a huge potential.
Texmaco also holds 41% stake in Texmaco Defence Systems Private Ltd. (TDSPL). TDSPL was incorporated with a view to expand its footprint in the Defence segment in deference to the Government of India Policy of 'Make in India' and to identify opportunities in the Defence segment.
TEXMACO's forte, however, is its team of dedicated professionals, a team which has grown with the Company and is closely identified with the corporate objectives. It has to its credit a singular record of industrial harmony stretching over several decades. The Management has made a massive investment in greening the environment and made the workplace eco-friendly, and relaxing, to help maintain work-life balance.
As a part of Corporate Social Responsibility, Texmaco Rail & Engineering Ltd. continues to invest substantially in Community Welfare Programs, and has been extending financial assistance on a wide scale to the needy and deserving.