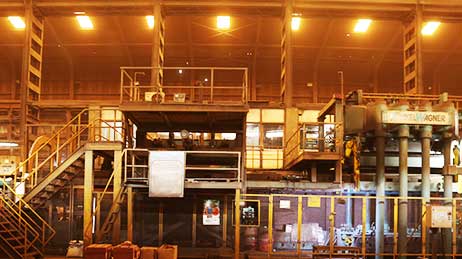 Since the inception in 1939, the journey of Texmaco Steel Foundry has become a living example of amazing industrial evolution in Indian foundry arena. The foundry always remains the Fittest To Survive while passing through the various political tenure, socio-economic environment, and industrial roller coaster phases over the last eight decades and always emerged as the leader in the sector.
Starting with the castings for textile machineries the foundry has evolved as a leader in railway Bogies, Couplers and CMS Crossings with more than 25% current market share. The growth of Texmaco Steel Foundry is further continuing with 40% export to USA and Australian market in Railway and Mining Equipment sectors.
Texmaco Steel Foundry having installed capacity of 42,000 MTPA is the largest steel casting facility in Indian foundry space. With its pioneering vision, obsession for technology, continuous improvement, robust infrastructure, and skilled workforce, Texmaco Steel Foundry has shown sustainable capability to produce high volume wide range of steel castings with utmost precision and quality.
Texmaco Steel Foundry is the 'Numero Uno' in Indian steel castings field for being the
Only steel foundry in the country to use High Pressure Moulding Lines (HPML) for heavy weight railway bogie castings.
Only foundry in India accredited by AAR (Association of American Railroads) enabling the foundry to supply railway bogie castings to North America.
Only foundry in India holding license from ASF-Keystone, U.S.A for manufacturing of Ride Control Bogies.
Only foundry in India having in-house capability to supply machined Side Frame castings
One of the very few foundries in India having in-house NABL accredited laboratory with R&D facilities.
One of the very few foundries having in-house facility for manufacturing latest Weldable CMS crossing for railway.
Texmaco Steel Foundry facility is equipped with the best of class technology across the design, production, and quality system. In-house design capability with SOLIDWORKS 3D modelling and Flow & Thermal simulation, Moulding and core making facilities with fully automated Kunkel Wagner High Pressure green sand moulding, automated sand plant, No Bake moulding system with Fast Loop Line, automated Lampe Cold Box core machine, Melting facility with Electric Arc & Induction furnaces , wide range of machining facilities and the complete in-house quality control capability with spectrometry, Radiography, MPI, Metallography, mechanical laboratory and various other NDT testing and gauging facilities makes the foundry as the most preferred supplier for major Indian and overseas OEMs like Indian Railway, Wabtec (USA & India), Sandvik and Bradken (Australia) etc.
With its commitment towards manufacturing and environmental excellence, Texmaco Steel Foundry facility and quality management system is certified with ISO 9001, ISO 14001, ISO 45001, and AAR M- 1003. The foundry also drives an own-designed robust safety system towards the goal of "Accident Free" workplace across the organisation.
Driven by a committed and self-motivated team with the defined vision of world class manufacturing, clean environment, safe workplace and 'ahead of time' organisational strategy, Texmaco Steel Foundry is ever ready to take up new challenges and is all set for diversification and growth to continue its journey of excellence.