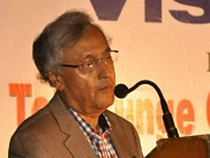 Texmaco working on improving efficiency & quality: ED
September 5, 2022
"We need to improve our efficiency and quality so that we can get it right the first time and improve our productivity as well. We also have started working round the clock which we were not doing. These are the very first copy book style operations which we need to do and which we are doing right now to meet up with the challenge," says Indrajit Mookerjee, Executive Director & Vice Chairman, Texmaco
Indian railways is going through a major churning with big structural changes and the scope of operations in the railways now is at a cusp of change. How have you looked at this drastic shift that one is currently witnessing?
The Indian railway is going through radical change. If you start from capital investment, the numbers that we have in the media is that the Budget for 2022-23 at about Rs 2.15 lakh crore which now will be pushed up to Rs 2.45 lakh crore and this is almost a 14% increase from the budgeted capex.
It is expected that the expenses will be in terms of laying new tracks and modernising tracks for speeding up of trains, buying high speed, modern trains, wagons, locomotives, electrification, signalling, developing railway stations and last but not the least making quantum jump in terms of railway safety. The railway sector has suddenly opened up and offers lots of opportunities in the domain.
You have received an order of 20,067 wagons from the Indian Railways with an order value of Rs 6,450 crore. What is then the outlook on executing this order book and the timeline?
Texmaco is a very old company with proven skill and these are the numbers which Texmaco have done earlier. It is nothing new but I must admit that for almost more than a decade there were hardly any orders coming from railways and also this segment was very dull. In such a situation, inefficiencies start creeping in.
But now that the requirement is high, the industry will have to meet the challenge and for Texmaco we have already done that before.
We need to improve our efficiency and quality so that we can get it right the first time and improve our productivity as well. We also have started working round the clock which we were not doing. These are the very first copy book style operations which we need to do and which we are doing right now to meet up with the challenge.
Now we have to really see how things move and we also have some plans for expansion of capacity or divesting certain portfolios.